END OF THE SUMMER IN MECKLENGURG
Sunny sky spotted with low dark clouds, fresh breeze and coldness of late summer mornings created a somewhat dramatic scene in a land of unending lakes and canal waterlines in German Mecklenburg. Canals and lakes form a very interesting system of waterways in Meklenburgische Gewässer (Obere Havel Wasserstraße, Rheinsberger Gewässer, Müritz – Havel Wasserstraße,… ) leading through a beautiful wooded landscape provided with surprisingly clean water.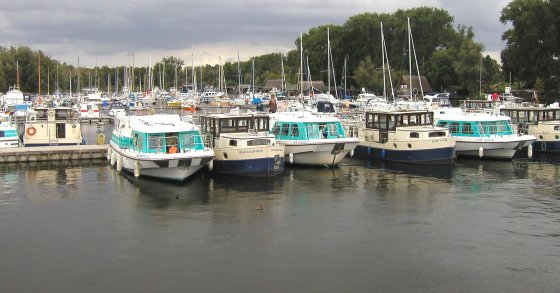 Our navigation started in Hafendorf Claassee Marina on The Müritz Lake bank. This is the biggest lake in the Mecklenburg area. The Kuhnle Tours Company seating ib. Has a big offer of charter boats and the option of nautical tours starting there is very varied.
Please let us introduce ourselves: in front the captain less crew formed by family members, including the youngest ship-boy, that has just celebrated his 18 months anniversary of "navigating through life". Behind and under the crew there is a 12,6 m long boat Kormoran 1260 "Biber" that provides enough space for five-days stay and mainly reliability and good feasibility for navigation.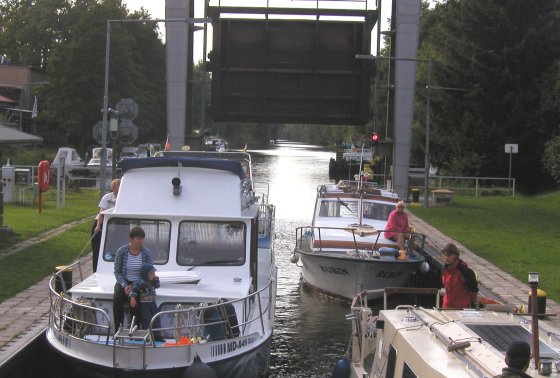 Our cruise was heading to the South of The Müritz Lake. After a few kilometers we are passing a modernized lock Mirrow, that is one of the busiest ones in the area. On Monday the waiting time was one hour, on Thursday more than two hours. While planing trips it is necessary to calculate for the delay.
And this is how we are waiting at another passing lock (waiting spots give a good chance to "walk" dogs as well children) …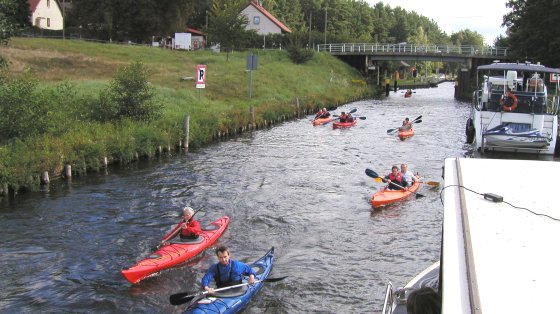 … because the first kayaks has to leave the chamber and the fairway – by the way we met many of them, kayaking is a popular activity over here – …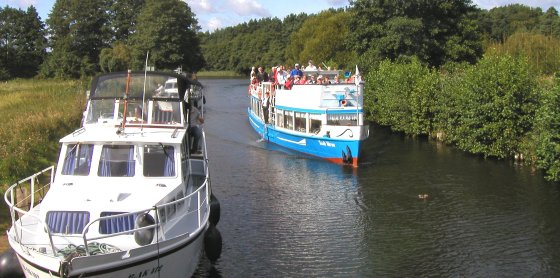 … and then from a far a loudly hooting little tourist steam – boat claims right of way that is of course chartered to it …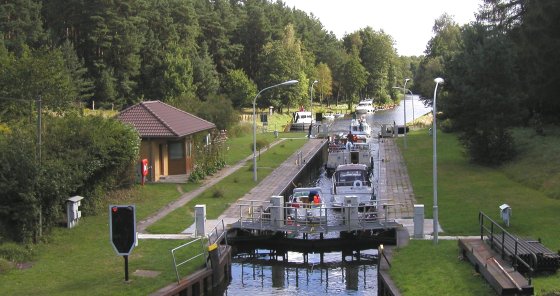 … and at the end The Schleuse Canow opens to us as well. The locks in Mecklenburg are operated by staff and crossing them are really easy. The only remaining problem is how to bundle as many ships as possible into a chamber to prevent forming "traffic jam".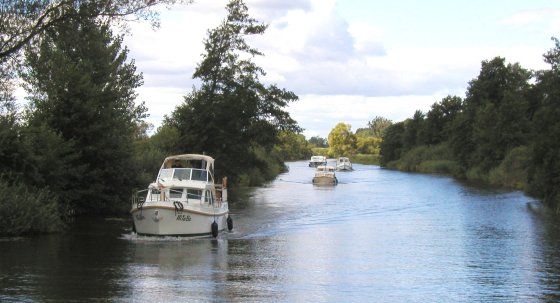 In all we tackled about twenty more locks during the following days. The weather stayed steady and our navigation leads us in turns on canals forming water way among numerous big or smaller lakes …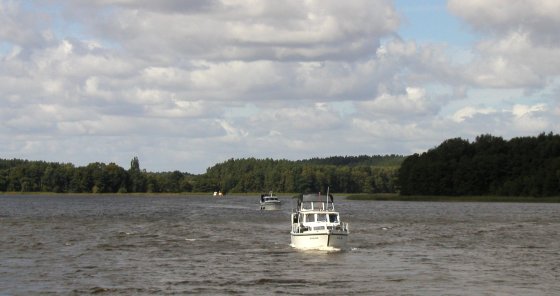 … and on the lakes themselves … Which part is more pleasing? You test yourself. For me it is half – half.
Relaxation and sport life by the water has always been busy in Mecklenburg … In many places by canals and on lake banks you can spot numerous "venices" formed of lodges and boat sheds from history or the near past.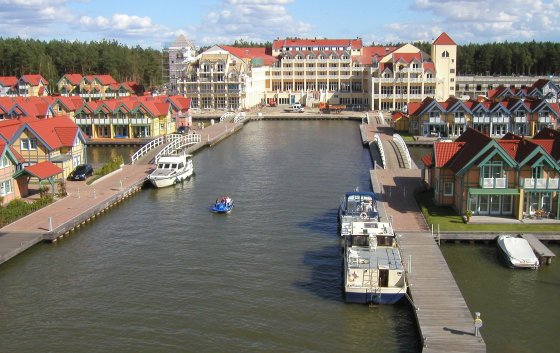 The hot trend – not only in Germany – in the offer of spending holidays by the water is new complexes for sport and relaxation taking shape of luxury marinas offering not only places to anchor but also an option of buzzing or renting a flat or a house. One of these is Marina Hafendorf Rheinsberg. The time will prove if this is a step in the right direction.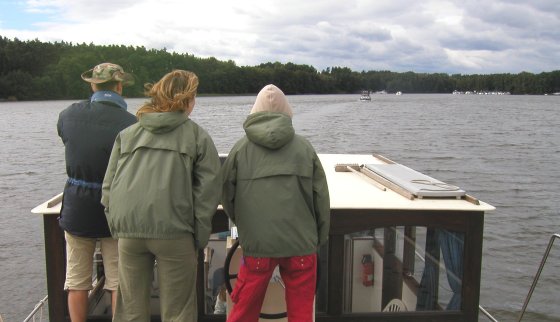 The weather began to deteriorate a few hours before the end of our cruise: first winds picked up followed by persistent cold rain … but never mind, a sailor should experience everything.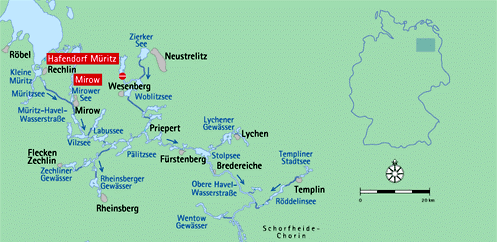 In the space of four days we covered: Hafendorf Müritz, Rechlin, Rheinsberg, Neustrelitz and back to Müritz, all together about 150 km. As the map showed. We were mainly taking side water ways leading into very attractive and interesting places and towns.
I acknowledge that this area naturally extended by water ways to the north to Schwerin? and to the south all the way to Berlin and Potsdam provides very attractive landscape and offers a good choice of navigation, rent – a – boats and anchor. For a sailor-beginner this might be ideal. And another big advantage is the fact that this area is the closest one to us.
October 2007
Charter: www.kuhnle-tours.de