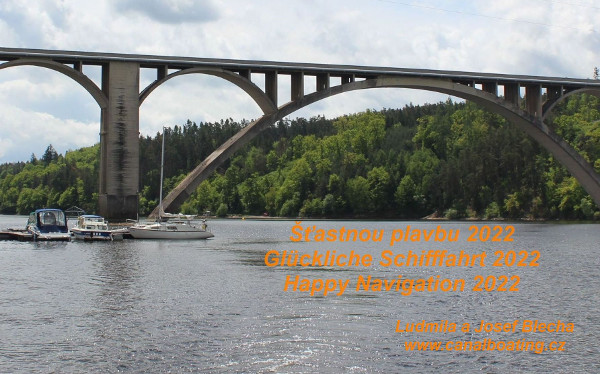 Why CANALBOATING?
Ship navigation (using motor yachts and motor boats, house boats and sailing-vessels) on inland water – meaning canals, fairway rivers, lakes and coastwise sea water – is finding more and more holiday fans. Trying to find a proper name for this hobby I used an apposite English term "canalboating".
Why WITH BLECHA?
My name is Josef Blecha.I was born in
at the end of the first half of the last century. Now I live in

– , due 50°01´46´´ N and 15°11´39´´E, that's situated a few tens of metres far from The Labe River, that could become a splended terrain for a sport navigation, if it was provided with marinas and proper landing places. Canalboating is my great hobby. Time to time I support various magazines with articles describing the journeys my wife Ludmila and I have taken. I am a Czech Travelers' Club member. Im also a member of The Sport Harbour of Kolín Ass., that intends to build a sport marina on The Labe River in Kolín. I am not an owner of a boat yet.
And why create THESE PAGES?
There is not a lot of information on canalboating available here in the Czech Republic. That's why I would like to share with you – if interested – some of my experience and perceptions from our voyages, to help you to find an appropriate charter boat and to give some advise "how to do it" and display some interests from waterways, and also to offer these pages as a ground for discussion between people with the same interests and hobbies, and for your Travels and experience.
CONTACT: blecha@bert.cz
See you ON BOARD !
---