A few days on Vltava and Labe rivers … or a good tip also for beginners
I have navigated through many regions of Europe and the world but the Vltava and Labe is attracting me more and more. Good navigating conditions, beautiful surrounding, experiences of numerous locks passing occupied by a willing start, new marinas with a perfect equipment….indicate an optimistic presence and future for a local Czech canalboating. This is meant also for the ones which are still hesitating to pick up this hobby. A couple of attached photos and odvise for inspiration.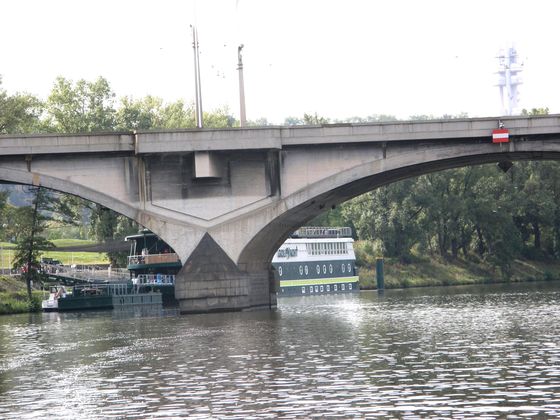 "Vltava Charter" company moors its three charter boats at the Liben bridge and near a dock GolfYacht : Otis, Lucky and Otice. Eventhought they are not the best charter boats, they are quite easy-to-manipulate, fuel-saving and equiped with everything a crew of four needs. The starting place of the navigation is situated on the river just under Prague. This is very good for beginners – if they navigate down the stream, but this way they loose out on an unique experience of navigation through the centre of the city.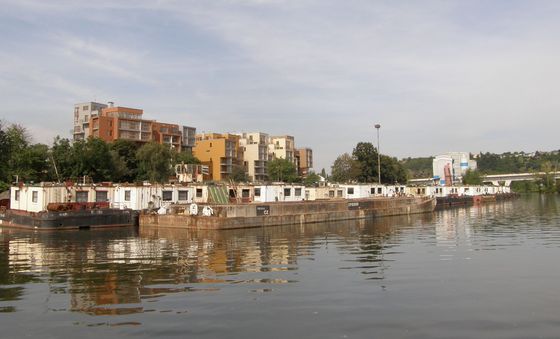 Backed by navigation charts of Vltava adn Labe rivers (both good and up-to-date) we set sail…After short navigation se get a chace to sweep into a laguna of an old harbour of Prague-Holešovice. For the time being it seems like a junkyard with old toeboats, but in future it shall change into a luxury marina – construction of high-cost house buildings "on the bank" gives a guarantee of the change to future owners of boats.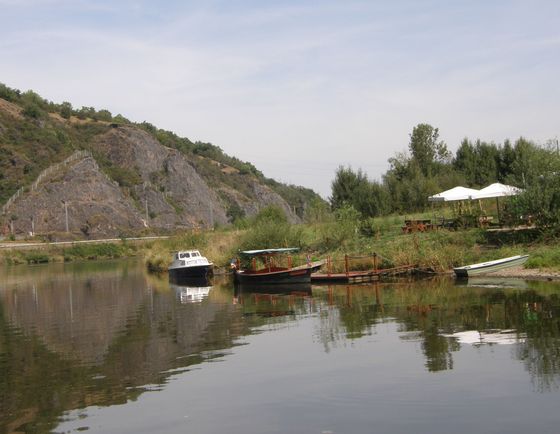 All the way to Nelahozeves Vltava river reeves through a delightsome valleey comparable with "river-classics" like Mohan, Rhine and others. A railway on a left river band adds a glimmer of drama and modernity, newly established ferries and restaurants on river banks remind us of far older times. This part of river misses only a few more anchorages to be perfect.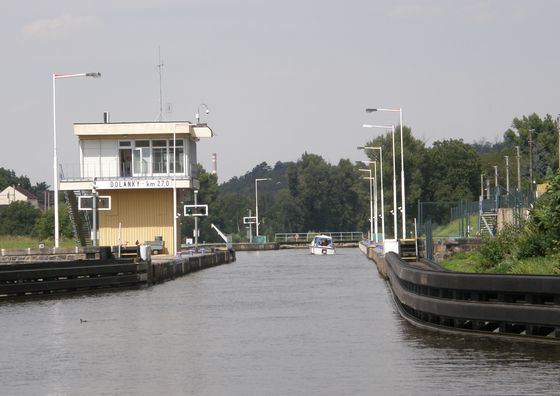 We started at riv. km. 49 and we had to pass five lock chambers: Podbaba – riv. Km 44, Roztoky – riv. km. 36, Dolánky – riv. Kkm. 27, Miřejovice – riv. km. 18 and Hořín – riv. km.9 of the Hořín cannal. The freight ship transport on the river was very slight, that allowed us to get through imediately and with no problems – few kilometres before we were supposed to pass the lock chambers we just had to make a phone call to the maitenance of the locks and arrange detailes. The "chamberers" were very willing.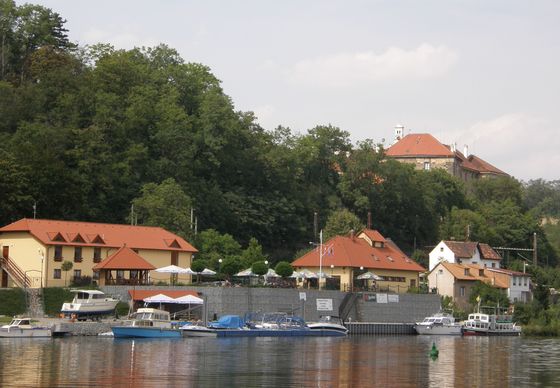 On the first day we normally get to Nelahozeves and to ist "Marina Vltava" (www.marinavltava.cz) on left bank, riv. km. 20. This is one of few (the only one?)on Vltava river that deserves five stars (or five anchors?) rating. Neat and pleasing surrounding and perfect servise. All non-residents should visit a local chateau. This marina is on the right spot to stop and stay over on out way back in few days.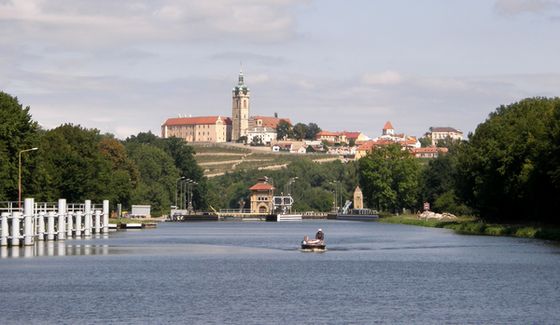 I love the view across the Hořín lock chamber… High above a junction of Vltava and Labe rivers there is a Mělník Castle overlooking whole local landscape thet is covered with covered with wineyards. Here we have to make dicision about a direction of our navigation: we can go right up the stream of middle Labe river or left down the lower Labe river. Either choise is good and interestint! We decided to go down the stream to get down to "Marina Labe" in Píšťany at Litoměřice, that is other "five anchors" marina in this region (www.marinalabe.cz). It is situated on riv. km. 53.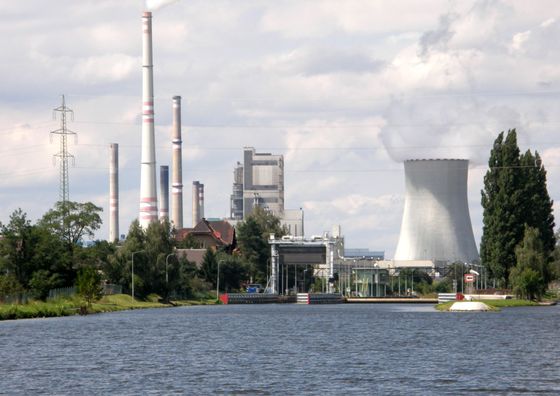 This is not an entrance intoto a local power station how it mihgt seem, but a lock chamber Dolní Beřkovice – riv. km. 7 – first under the rivers junction. Also "industrial panorama" belongs to lower Labe. Then we were about to pass through one more chamber in Štětí – riv. km. 18 – and navigate to Roudnice nad Labem. The rules of passing Labe lock chambers are the same like the one valid for Vltava riv. You can find more info at www.pla.cz.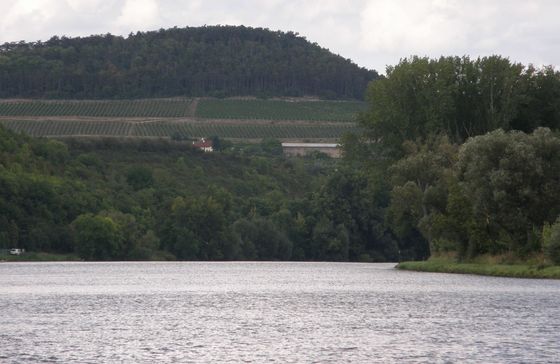 Navigation along valley of Labe f riv. belongs among the interesting ones. View at wineyards is otimistic and tells about the fact the river is flowing through "very favourable" landscape. Rivers are fortunate in choosing their ways – mosel wine, rhine wine, Marna and its champaine… Otherwise fairway is well-arranged and marked with floats where neccesary.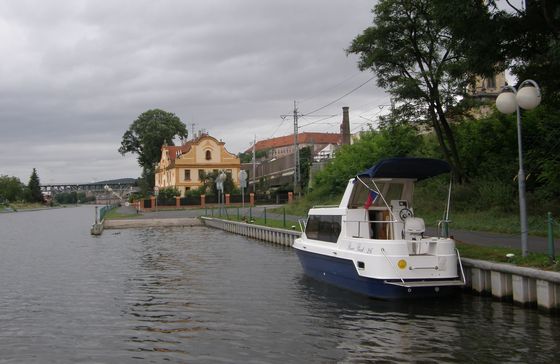 Because of a morning delay caused by a defect on our starting battery we lost chace to reach our destination in Píšťany. We decided to stay over in Roudnice on riv. km. 28. We found a handy place to anchorage in an upper floating channel aboveRoudnice lock. Eventhough it was situated right next to a busy walkway, during night it was quite peaceful. In morning we set off back to Prague.
You cna meet "Vyšehrad" – a touristic "huddle of iron" – on Hořín lock once in al blue moon. What a peace of bark is it! It was an adventure to meet it on a relatvely narrow Hořín channel.Befor entering this 11 km long channal it is advisable to give a call to the lock maitenance and ask if/what is navigating in the opposite direction.
Again staying over night in "Marina Vltava" in nelahozeves. What to add? There is a great chef and the marin owner Petr Kožený makes sure also other services are on a perfect level.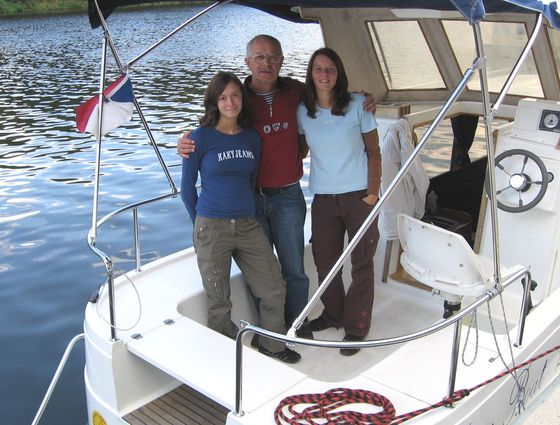 As the title says thie navigation is good tip also for beginners. I really meant it serioursly and tryed to teach my grand daughters Klárka and Veronika "skills of navigation". Anyway they really enjoyed our trip. So try it too…and if you feel like you can write few notes to me or send your photos…
August 2008