Twice canalboating in Australia
We left to travel Australia after half a year long intense preparation (air-tickets, visas, booking boats, renting a car, getting all the necessary information,…). The trip itself took one month. For the season we chose a European autumn – the time when the antipodes have spring and it is the best time for travelling. It was also the invitation from my friend Graeme and his wife Catherine from Wollongong that we set much and that provided us with needed and very pleasant shelter during the first days of our stay in Australia. The goal of our holiday was to travel and get to know only a part of the continent, New South Wales. Of course two navigations were included in our travel plan: on Murray River and In Broken Bay.
First navigation: Australian Mississippi
It is daring from me to compare an Australian river Murray to much a larger American one – especially because I have never been there. I can not help myself – this comparison appeared on my mind when I first come to the river in Echuca: old port, anchoring historical steamboats, dockland with small shops and taverns,…all the atmosphere like hundred years ago.
River Murray
Even though Australia does not have a lot of inland waterways at all, there is to be found an interesting navigable River Murray, that together with its affluent Darling River played important role in colonization and exploitation the inland of the continent.
The Murray River is cc a. 2500 km long and most of its flow forms a natural border between states New South Wales and Victoria. It springs in the mountains in south-east and falls into Pacific ocean not far from Adelaide.
The river was intensely used for cargo transport using its characteristic steamboats and tug boats from 1850s. Its mild downgrade enabled navigation all the way to 1712 riv. km. The Euchuca port as the final inland port was very busy in those days and ensured goods transport not only to the ocean, but also to other harbors on the river. It was in the zenith of its time at the end of 19the century. Later on, even though navigability of the river was kept and improved by building locks, the cargo transport was taken away by newly built railway.
While Murray is one of the world longest rivers, it is not that large. It is an interesting fact that its flow hole is very similar on both upper stream and lower reach. This is caused by the river flowing through very dry areas that provide it with no more water, on the contrary a lot of the river water is used for irrigation in the last few decades.
Murray and houseboats
Nowadays the navigable Murray River is used only for leisure time navigating. Numerous liveries offer only houseboats that are ideal for navigating this river. You hardly ever meet a motor yacht or boat.
All houseboats are of a similar shape: on two lengthwise pontoons there is a living space situated. Only thing that is different from a "normal" house is a space for steering gear in its front part and a strong trailing motor at the back "in the basement". The boats are equipped with all possible comfort: complete kitchen with gas or electrical gadgets, lounge, few bedrooms, bathroom, barbecue stand, a sun deck on the roof.
Like always our boat was the smallest one around. The size of the houseboat was "only" 5 x 12m and contained "only" three small bedrooms. There was a simple rule: the bigger the houseboat was (and ours was one of the smallest ones), the bigger number of bedrooms, bathrooms and possible more luxury equipment – the names like "Magic", "Bella Casa" or "Randevous" point at this fact. Twice we met a double-deck vessel with a sun terrace on its third deck…
Murray and navigation
In Euchuca the river traffic is quite busy. Beautiful historical paddle steamers, mostly powered with original steam-engines, take tourists for short rounds or for booked "river parties" – almost like in Prague around The Charles Bridge…
To navigate a houseboat no "nautical license" is necessary – no matter how big the vessel is. The fairway is not signed, there are only signs with kilometrage on banks. It is curious that even though you drive on the left side of a road, on river there is "our" rule of passing from right. Murray River flows about 4 km in an hour, that means that vessels normally reach the speed of 12 km/hour and it takes twice this long to if going upstream unless you want to exhaust the engine and double your petrol usage.
Though their size the houseboats are easy to control. This is enabled by outboard motor rotable 90 degrees to each side. The size of the boat can cause few seconds delay of the steer action the navigation is easier for the ones used to tankers than the ones that have experience with motoryacht.
And where and how to anchor? There are neither marinas or anchorages on Murray river. High sand river banks tend to form a narrow sand beach where meeting the river surface and that is why it is possible to land anywhere. You look out a good spot with two suitably shaped trees, point the boat sidewards towards the band and slowly come onto the the brae. Adjust the boat vertically across the river and hold it in this position until the boat is tied onto the trees (!!!). And you can start fishing, swimming, grilling or doing another "additional" kind of leisure time activities, that crews of houseboats are happy to do to keep themselves busy.
Murray and us
We took over houseboat "Regency"on Monday afternoon after visiting a local supermarket where we bought food and drinks that should last for the whole navigation. And because we found out there was a good fridge on the boat, we got delicious steaks to grill on the boat. Our friend Graeme joined us for first three days on the river – also for him it was a new experience.
First day we went for a "testing sail" above and under Echuca. Mainly we viewed the Old Port Echuca from the river, that is a home port of the supposely the worlds biggest navy of paddle steamers. I have not verified if this is true or not, but I believe it is. The view from the water surface wax so charming, that I had to navigate around three times.
Only on Tuesday morning we set out for a "proper" navigating. But "proper navigation" and Murray do not go together. Sailing River Murray is more about a good time spent in beautiful nature than about the number of kilometres you make. Even though we traveled about 20 km every day, it was not important. It is not advisable to think that in space of few days "get somewhere and back". Meanders of Murray River seem endless. In spite of this fact the scenery of mostly deserted banks with bizzarely shaped eucalyptuses is changing all the time. Every meander of the river brings new views. Unexpected experience for us – Europeans – was the unbelievable variety and brightness of birds, that were coming very close to humans.
Our first Australian navigation came to its end and after handing the houseboat back in Echuca we set out for new adventure further into inland.
Charter: www.richriverhouseboats.com.au
---
Second Navigation: Nautical Paradise in Broken Bay
This trip was of a rather different kind than the previous one: different ship – this time a motor-yacht, instead of a river a sea bay, large water areas with steep rock sea-costs, lots of various vessels,…but also rainy and windy weather. In spite of mentioned it is a real paradise for all kinds of ships.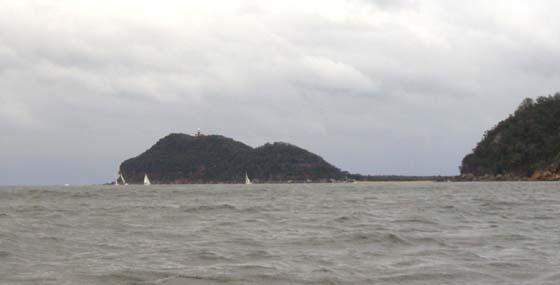 Broken Bay is situated about 50 km to the north from Sydney and cuts deeply into inland with its many branches and crooks reminding us of Norwegian fjords. Hawkesbury – one of the biggest rivers of New South Wales – flows there into a sea. And to make it more complicated, the bay is formed of three big parts: a great bay in the south – Pittwater, a middle Cowan Creek and far into North going Brisbane water. And behind the rocky Barrenjoey Head crowned with a lighthouse there are endless planes of the Pacific.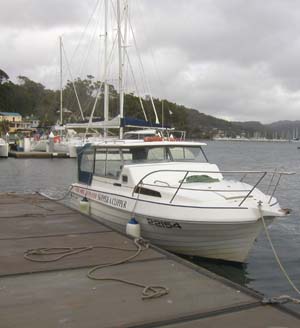 "Persuader 22 Cliper" – that was "our" motor-yacht we rented for three days in Gibson Marina, Pittwater bay. For two mariners and the water terrain we were about to navigate, the ship was appropriate.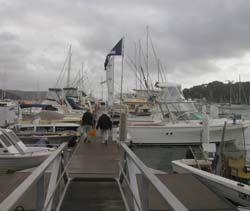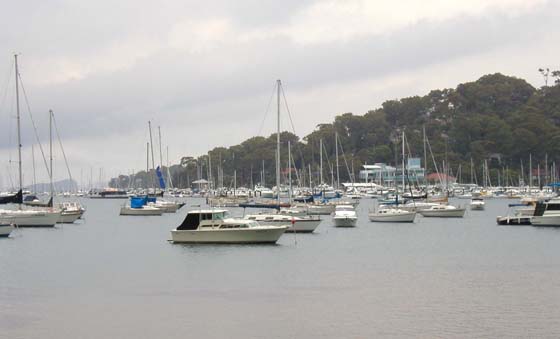 As we were arriving by car to a southern part of Pittwater, we expected just a deserted cost with only marina (ours) to be there… the truth was totally different. This region is a "nautical base" for Sydney inhabitants. As far as we could see there were docked ships and weekend houses on the costs…including our blue marina "Royal Marine". You see in Australia people live next to water and on the water.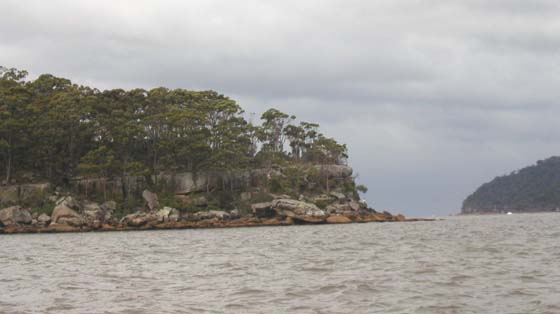 The surrounding was of a different kind. Most of our navigating was framed with high rocky cost and small beaches in shelter crooks. It was quite to find a really deserted spot to anchor.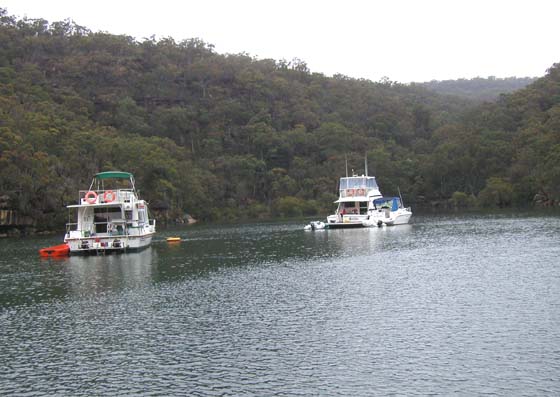 And what was the anchoring in this area like? There is just a few marinas and they are not situated in the very romantic areas. You can anchore onto mooring floats, that are placed on many suitable spots. I have not tried to find out who placed them there, but it was important to know, that the small yellow ones were private and the big yellow ones public. And even during weekends there was enough of them. If it happened and there none was unoccupied there was no reason why two ships could not share one float – at least you had more fun while making BBQ. It is great, isnt it?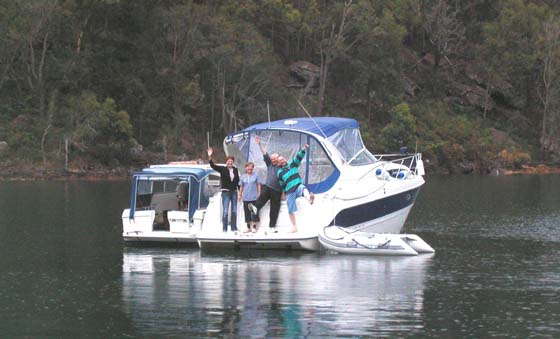 Pinta Bay was a place where we reunited with our friends Graeme, Catherine and Alistain. They arrived at agreed spot (S 33o 35´30.28´´- E 151o12´30.10´´) soon after us on a bigger and rather faster ship than ours, so we moved onto their deck and enjoyed the night while having BBQ and drinking beer and wine. Next morning the power of Bayliner engine unabled them to disappear behind a first cliff before we managed to unfasten our yacht from the float.

Under the Brooklyn railway bridge the water is already called the River Hawkesbury, that three km further merges with Broken Bay waters. Its moderate stream effects the speed of navigating. And above the bridge there is still many of its kilometres offers a chance of a beautiful navigation.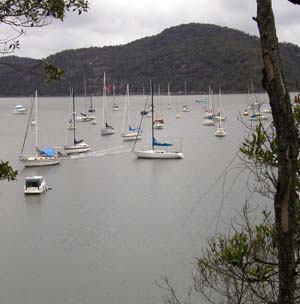 The railroad brings an advantage: right nest to the river there is a train stop and in Brooklyn resort with a big marina equipped with everything needed for water sports and with a large docks and a ship-way behind a tall rocky bill. An ideal place for ship owners from both close and far neighborhood.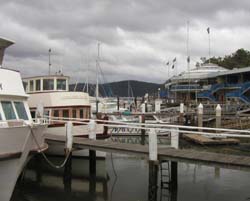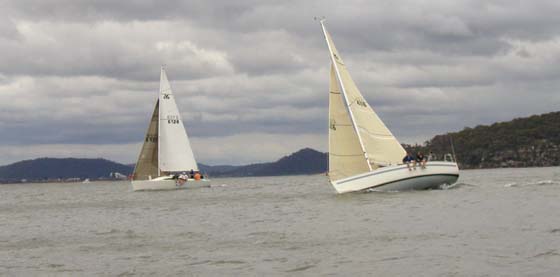 Sunday wind picked up and blew long ocean waves into the bay. Our ship got rocked nicely, and local experienced yachters were happy to experience a bit harder training conditions.
Good bye, Australia …As well this navigation came to its end. Even though there were still many undiscovered corners and attractive water areas left in the Broken Bay, our flight from Sydney next day was not about to wait….
If Australia was not so far from home, it would be a great "canalboating place". But even if you get there only once in life, the experience is remarkable and worth coming all the way. I can recommend to everyone who visits this red continent to dedicate few days to a kind of a "boat activity".
October – November 2006
Charter: www.skipperaclipper.com.au